I'm very excited to be attending Word Camp EU in Vienna this week. The lineup of speakers is superb and so many of my coworkers are going that it'll be like a mini grand meetup. Ben and the kids are also coming along and we're going to stay in Vienna for an extra couple of days afterwards to have a look around.
On the Saturday night there's going to be a ball. Yay! A ball! I have been given permission by Ben to abandon them for the evening so I can go and pretend I'm young and popular for a couple of hours. For once I won't have to prance around my room in a dress looking silly; instead I get to it out and make a fool of myself in public. This is how I normally look:
But I'm imagining something like this:
Ok, I realise I'm probably getting a bit carried away and it'll be more like this: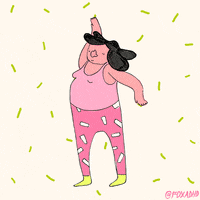 In any case, I'm always very happy to make a fool of myself, especially if it means I'm the centre of attention for five minutes, albeit for all the wrong reasons.
This is why I love the tech industry. People in tech, in my experience anyway, are so non-judgemental. I could wear a chicken suit and it would be fine. Vienna here we come!