The weather is dreadful today. I think I should be given honorary British citizenship for complaining about it. It has been raining non-stop for days now and today is exceptionally windy. If I don't get exercise every day I get fractious and mopey and while I don't mind cycling in the rain and snow, I can't do it when it's really windy because Busby gets blown around so much.
So instead I forced myself to go outside for a run. My run felt a bit like this: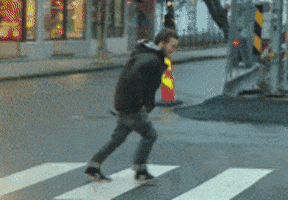 Ok, I exaggerate just a little bit but you get the idea. Now while you're all feeling smug in your dry, warm homes let me tell you that I feel terrific after my run so it was well worth it. So there.
Our heating has just been down for almost two full days. It broke down on Friday. On Saturday morning I booked an engineer for that afternoon using the online tool but no-one showed up, so I rang and discovered the online tool hadn't worked. I booked again on the phone but we had to wait until today. The heating is on again now. It got down to about 10°C degrees inside which reminds us of the old days in Christchurch where most homes are single-glazed and have no central heating.
After the earthquakes, when we'd first moved to Auckland, Ben had to return to Christchurch for a couple of days for work. Friends of ours, who had also abandoned the city for Auckland, let him stay in their house. The house had been empty for several weeks with no heating on and it was mid-winter with snow on the ground outside. Ben discovered that he would be warmer if he huddled in the refrigerator which, at 4.5°C degrees, was warmer than the house.
We have all had our hats and scarves on inside this morning. Here's a photo I took of Ben marking exam papers:
On Friday I did some more wallpapering. This time Elizabeth's room. It was just one small wall and a much easier task than my last effort except that the plaster on the wall was not in such good shape and very crumbly in places. I had to use a lot of filler to patch it up. Here are the before and after pics:
Elizabeth is very happy with her room. That's it for me for wallpapering, at least for now. I've had enough 🙂